My Truck Mods and Info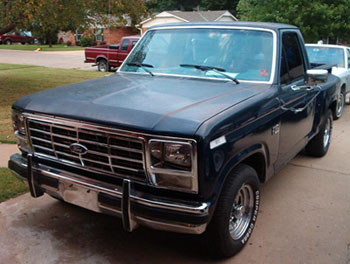 1984 Ford F-150 XL Stepside

302 Powered with automatic tranny(C5). All Power windows, locks, heat/ac, tach, tilt, cruise. Had about all the factory options available for 1984 F-Series. 120K Original Miles.
302 Has had many modifications done to it including:

1982 302 block bored .040 over
Edelbrock Performer 600cfm carb with electric choke and vac secondaries. Holley 600cfm Double Pumper?
Edelbrock Performer 289 aluminum intake with Lokar throttle cable, and transmission cable. Now have a Edelbrock Performer RPM.
Edelbrock Performer cam(.448/.472"). Now have Comp Cams 268XE Cam (.509"/.512" lift. and 268/280 degrees of advertised duration)
Milled E7TE heads making compression right around ~9.2:1 with flat top pistons
Flowtech Long tube headers

Dual 2.5" exhaust with 2 Flowmaster 2 Chamber Super 40 Series Mufflers
Clear Corners, Park lenses, and new grill and trim
Recently converted to 9" rearend from 8.8" using a Currie Enterprises Trac-Lok third member
Now has Polished Aluminum ball milled valve covers and matching air cleaner
C5 Tranny soon to receive some lovin' with a shift kit. Now have a 2000 stall from Broader, a TransGo Shift Kit, new tranny cooler, and a Performance Automatic Shift Servo.
Davis Unified Ignition also soon to follow. On its way.
Also have Summit Racing fuel pressure regulator, and a new Ford Racing harmonic balancer, ARP main studs and waterpump/timing cover bolts, Crane Roller Rocker Arms, Cranes Stud Converion kit, and several other "nuts and bolts" to put this motor back together for the second time, hopefully right for the last time. For the newest stuff look here.